Microsoft
Keith Smith - My Blog
>
Microsoft
Tuesday, September 27, 2016 - Posted by Keith A. Smith, in Microsoft
I started testing Windows 10 Enterprise in my environment. I know there are a number of new features in Windows 10 that aren't great for domains (PIN codes, Microsoft Accounts, etc.). After digging through all the GPO settings, I decided on the on the following. Once the modification was made and applied to the test machines, I brought in a few non-IT staff for UAT testing of the images. Everything went well, so I decided to share the settings I used in the GPO
lock Microsoft Accounts from being added or logging in (will not prevent accessing the Windows Store)
Force default lock screen and disable Spotlight
Disable WiFi Sense
Enable Virtualization Based Security with Secure Boot and DMA Protection only Credential Guard enabled with UEFI lock (NOTE: This will install the Hyper-V Hypervisor, with will cause VMware Workstation to stop working)
Disable first sign-in animation
Disable advertising ID
Configure telemetry to level 0 - Enterprise Only
Disable access to pre-release features
Disable feedback notifications
Disable access to insider builds
Disable Cortana
Disable Defender
Disable Windows Hello
Disable lock screen (the swipe up thing)
Disable 3rd party advertisements in Windows Spotlight
Disable picture and PIN password sign-in
And last but not least is setting explorer's default to This PC instead of Quick Access by doing the following:
HKEY_CURRENT_USER\Software\Microsoft\Windows\CurrentVersion\Explorer\Advanced
Value Name: LaunchTo
Type: DWORD
Value: 1

0 Comments
Tweet
---
Tuesday, September 29, 2015 - Posted by Keith A. Smith, in VMware, Microsoft
VMware vSphere 6.0 has brought a simplified deployment model where the dependency on Microsoft SQL server has been reduced. You now have the option of u
sing the built-in vPostgre SQL provided by VMware,
vPostgres on windows is limited to 20 hosts and 200 virtual machines.
vCenter System requirements
Supported Windows Operation System for vCenter 6.0 Installation:
Microsoft Windows Server 2008 SP2 64-bit
Microsoft Windows Server 2008 R2 64-bit
Microsoft Windows Server 2008 R2 SP1 64-bit
Microsoft Windows Server 2012 64-bit
Microsoft Windows Server 2012 R2 64-bit
Supported Databases for vCenter 6.0 Installation:
Microsoft SQL Server 2008 R2 SP1
Microsoft SQL Server 2008 R2 SP2
Microsoft SQL Server 2012
Microsoft SQL Server 2012 SP1
Microsoft SQL Server 2014
Oracle 11g R2 11.2.0.4
Oracle 12c
1. Make sure that you using static IP for your VM and you create forward and reverse DNS records on your DNS server. Also make sure that the machine is part of Windows domain.
2. Create an account in your Active Directory, this will be used on the SQL server for the vCenter database
3. Now you need to create a blank SQL database on an SQL server.
4. Once your blank database is created, you need to add the account you created in your Active Directory. Make sure to give it sysadmin for the server role.
Before you start the installer make sure your Windows Server VM is fully patched, otherwise you might get a prompt to patch the server. The two patches that are needed are below

5. During the vCenter installation process you might get a prompt asking to give the administrator's account the right to Log On as a service on the server that run vCenter. You need to grant the domain account you created earlier the right to Log On as a service.
The steps:
Get to the Administrative Tools, and then double-click Local Security Policy.
In the console tree, double-click Local Policies, and then click User Rights Assignment.
In the details pane, double-click Log on as a service.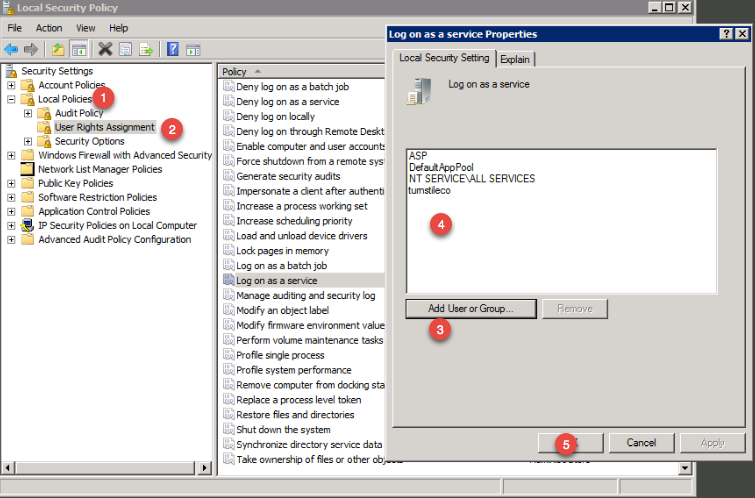 Click Add User or Group, and then add the domain account you created to the list of accounts that possess the Log on as a service right.
6. Important - The SQL server native client is necessary to create the system DSN. To download the SQL Server Native Client, click on the link below
This ODBC Driver for SQL Server supports x86 and x64 connections to SQL Azure Database, SQL Server 2012, SQL Server 2008 R2, SQL Server 2008, and SQL Server 2005.
http://www.microsoft.com/en-us/download/confirmation.aspx?id=36434
7. Now that the SQL Server Native Client is installed, create system DSN through ODBC data source administrator (64-bit).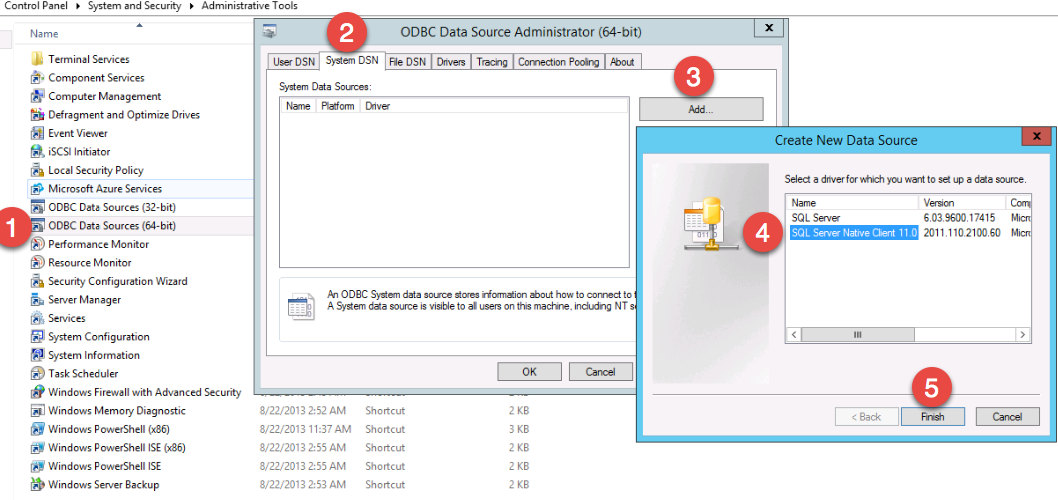 Proceed through the wizard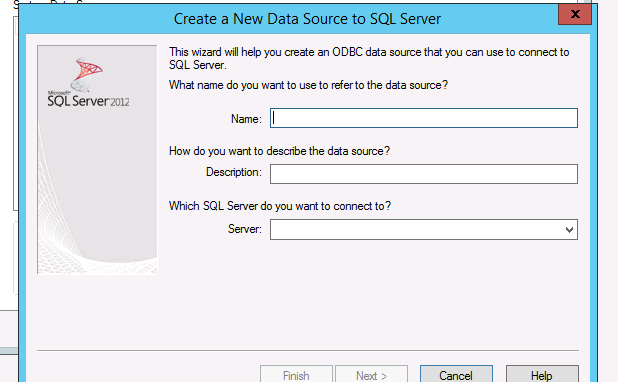 8. Once you have fill out all the SQL server information, make sure you test the data source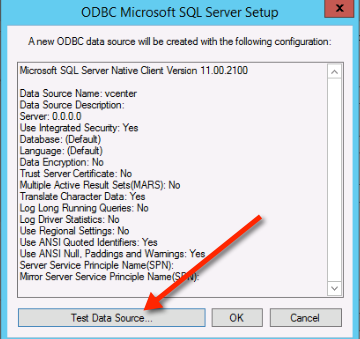 If you everything is setup correctly then you should see this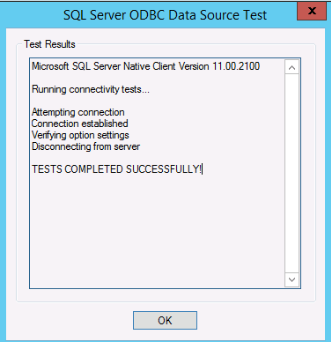 9. Mount the vCenter server ISO and double click the autorun.exe
10. Proceed through the vCenter install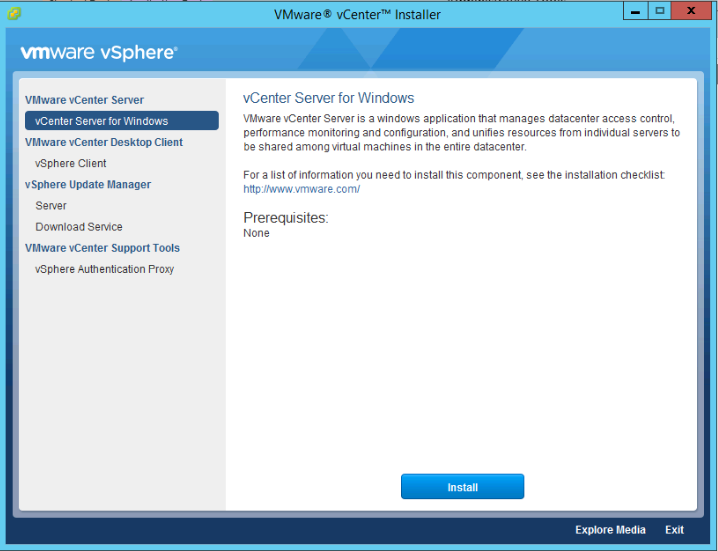 11. Once you get to the database settings, you will need to choose use an external database. If you DSN is blank then click the refresh button and it should appear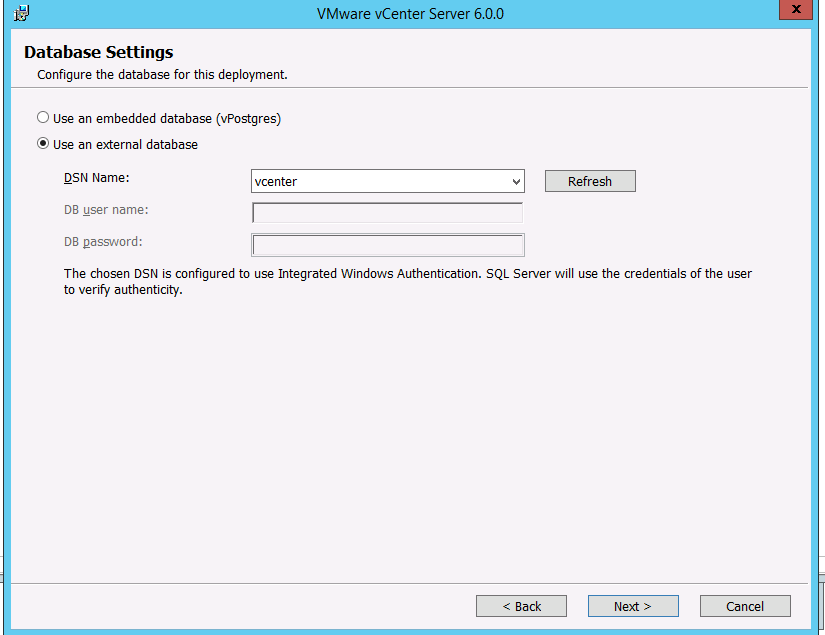 Continue the setup wizard and leave the default values… You should see the setup complete screen. At this point you can open up a browser and visit the vCenter interface which uses adobe flash.
-End

0 Comments
Tweet
---
Monday, September 28, 2015 - Posted by Keith A. Smith, in Microsoft
BgInfo is a well known tool that allows having a background Wallpaper showing some information about your system. This will save time when the need arises to collect details or troubleshoot your systems.
To centrally apply BgInfo I recommend the use of a Group Policy Logon script.
1. Prepare the Background Wallpaper to apply via BgInfo:
You need to:
•
Copy the BgInfo.exe in a folder on \\yourdomain\netlogon
•
Run BgInfo.exe, prepare the fields to display and then save your template in a .bgi file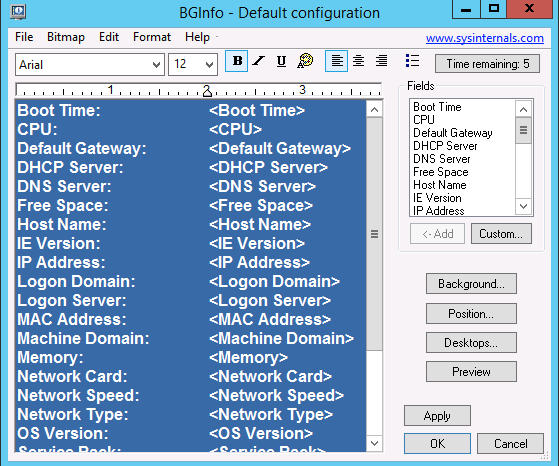 2. 2. Prepare a Logon Script to run BgInfo:
You can use the following script to run BgInfo:
reg add HKU\.DEFAULT\Software\Sysinternals\BGInfo /v EulaAccepted /t REG_DWORD /d 1 /f
\\yourdomain\netlogon\Bginfo.exe \\yourdomain\netlogon\template.bgi /TIMER:00 /nolicprompt
The commands above can be saved in a .bat file in Netlogon folder
3. 3. Apply BgInfo logon script using a Group Policy:
To apply BgInfo logon script using a Group Policy, proceed like the following:
Create a new GPO then go to User Configuration > Policies > Windows Settings > Scripts (Logon/Logoff) and then double-click on Logon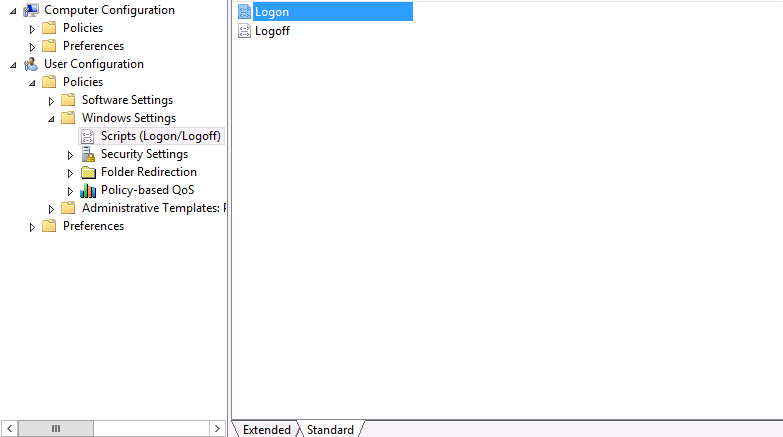 Select the BgInfo logon script you created and then click on OK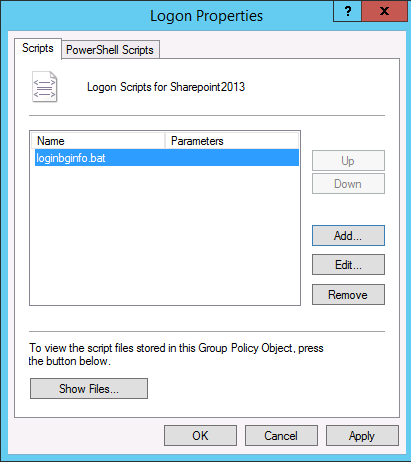 After that, you need to link your Group Policy to the OU containing the accounts on which it will be applied.
-End

0 Comments
Tweet
---
Wednesday, September 9, 2015 - Posted by Keith A. Smith, in Microsoft
One of the things I had on my to-do list was to take backups of a few SQL databases used by production systems, this way testing could be done in a separate environment. During the last Maintenance window, I got a chance to do this.
The steps were:
1. Spin up a new server (perform normal S.O.P for provisioning)
2. Install SQL Server
3. On the new test SQL server, Add/create security logins (they need to match the source, which would the SQL server where the database came from)
4. On prod servers, that had multiple databases I setup a Maintenance plan that would take a full backup of the databases I selected.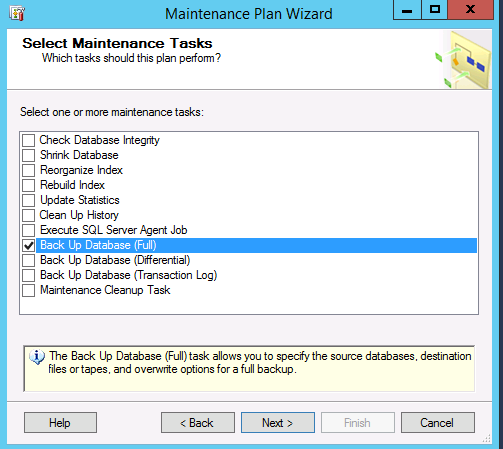 I did this because it was a quick and easy way to backup multiple databases in one fell swoo
p. I stop the services on the application servers to halt data being written then execute the
Maintenance
plan.
At this point, I move all the backups to the new test SQL server. I now have backups of all the databases I wanted in. bak files. I now am tasked with having to restore quite a few databases to this new SQL server. It would be great if I could do the reverse of #4 and restore multiple SQL databases at the same time, unfortunately that is not an option from within the SQL Management studio.
I could have created SSIS Packages to copy the data between data sources but chose not to on this opportunity.
I had an idea! If you go in the SQL Management Studio, then go through all the steps to do the SQL database restore, choose a source and destination database. Then go to the script drop down to copy the T-SQL script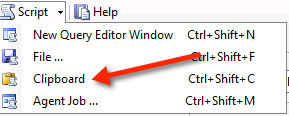 RESTORE DATABASE [DBNAME] FILE = N'DBNAME' FROM DISK = N'v:\DBNAME_backup_2015_09_09_RANDOM.bak' WITH FILE = 1, NOUNLOAD, STATS = 10
GO
Where the DBNAME is that would be the database name as it would show in the SQL Management studio. Now with the T-SQL script there I wanted to get the names of all the SQL backups, for this I ran the following from a command line
driveletter:\folder\dir /b>list.txt
This will create the text file inside that folder. If you want the file output elsewhere, use a fully qualified name. Remember that Windows uses \ as the directory delimiter, not /
Now using the list.txt file I created, I take the names of the databases and insert them in the T-SQL script where it says DBNAME. I do this for each database using some other methods to speed this part up. Once this is completed I execute the query; it took a few minutes, but results show no errors when completed. I refresh the Object Explorer, and now all the databases are attached.
I was able to change a string on a test application server, and point it at the new test SQL to confirm that the application was going to work. A Restart of a few services and success! Data is present and current at least at the time of the backup.

0 Comments
Tweet
---
Friday, September 4, 2015 - Posted by Keith A. Smith, in VMware, Xen, Microsoft, Linux
The system_thread_exception_not_handled xen.sys BSOD issue was interesting to me;

I wanted to see if I could reproduce this. I exported a VM from Amazon's EC2 because Amazon EC2 uses the Xen hypervisor as well. I upload the VM into a datastore on vSphere and convert the virutal disk as I noted here
http://bit.ly/1UrCpqN
I power on the VM and I get the same system_thread_exception_not_handled xen.sys BSOD. I boot into safe mode I run a msconfig from the search, Under the boot tab I chose base video because I still had the xentools installed on the VM's. So that had to be the culprit right? I reboot the VM, and it boots fine, at this point I uninstall all the XenServer/Citrix related items. I then restart the VM and I was glad to see it make it to the login screen.
Solution: I think...

The way to avoid this issue if you are going from Xen to VMware or any other hypervisor is to uninstall all the XenServer/Citrix items before performing the export of the VM.

1 Comments
Tweet
---